Adopting heat-resistant plate glass to ensure full transparency, these doors demonstrate solid fire resistance. Teraoka's Specific Fireproof Facilities ensure a complete glass door installation while providing 60 minutes of fire resistance.
Teraoka Specific Fireproof Facilities
(Individually Approved by Minister of Land,Infrastructure and Transport)

Teraoka Specific Fireproof Facilities
(Individually Approved by Minister of Land,Infrastructure and Transport)
Using heat-resistant plate glass, this door functions like any other automatic door. Its maximum opening is broad, conforming to the Heart Building Law ensuring smooth passage by wheelchair users.
* To facilitate smooth evacuation in an emergency, an exterior hinge swing door can be optionally installed in the automatic slide door component.
- Features -

* Teraoka offers a full lineup of manual doors and fixed panels in addition to automatic doors.
* Sashes are available in steel and stainless steel.
- Design, Installation and Usage Guidelines -

1. Specific Fireproof Facilities are individually approved on a package basis - sash, glass, automatic door equipment, etc. Teraoka is unable to make any changes (material, structure, etc.) to the package for this reason.
2. When using several iterations of this product connected in a series, design and installation will be performed in accordance with the 'Specific Fireproof Facility With Glass Operational Safety And Design Guidelines' issued by the Japan Sash Manufacturers Association.
3. Once installation work is complete, an inspection will be performed and a certification sticker with serial number affixed to the product for quality assurance purposes. Please make sure the sticker is not mistakenly removed during cleaning.
4. Our sashes may only be manufactured in four factories in Japan designated by Teraoka Autodoor, Inc.
5. Please make sure a smoke detector or heat detector defined by the Building Standards Law is connected via a control panel.
6. No holes or notches may be drilled or opened in the sash or glass.
7. Ceiling embedded sensors should be installed at least 150mm above and away from the sash.
8. Specific Fireproof Facilities should have their operation verified twice a year.
9. When cleaning glass sections, do not use any metallic cutters or scrapers. If using glass water draining equipment, make sure not to allow any metallic parts to come into contact with the glass.
- Fire Door Closing System Flowchart -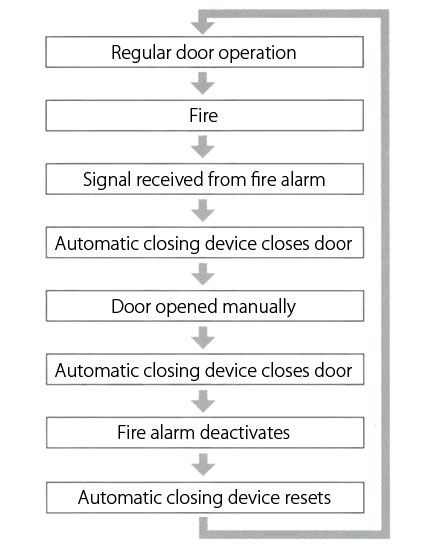 - Certification Sticker Example -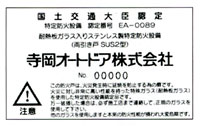 Teraoka Specific Fireproof Facilities Download Schematics
* Schematic data is prepared in accordance with standard specifications. It does not reference the locations depicted in photos.